Policy Brief: Energy Citizenship - A missing piece to the energy transition puzzle?
A new policy brief unpacks the concept of energy citizenship
20 February 2023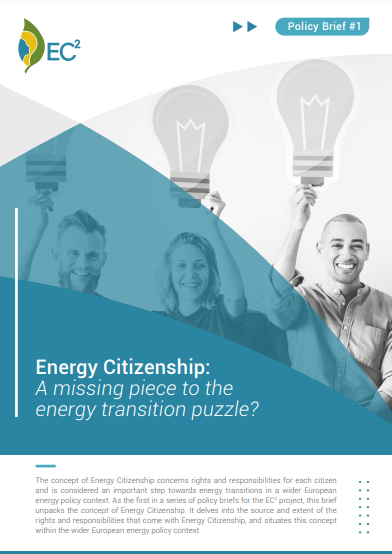 The first in a series of policy briefs for EC², this brief
unpacks the concept of Energy Citizenship.
The concept of Energy Citizenship concerns rights and responsibilities for each citizen and is considered an important step towards energy transitions in a wider European energy policy context.

Drawing on insights from transdisciplinary research across the fields of law, economy and psychology as well as co-creation workshops with citizens, this new policy brief delves into the source and extent of the rights and responsibilities that come with Energy Citizenship, and situates this concept within the wider European energy policy context. It provides key insights for policymakers on the need for an enabling environment for citizen engagement on energy, and the regulatory and economic frameworks hindering public involvement.

Learn more about the policy insights contained in the brief at the Right to Energy Forum on February 22nd at 15:30, live in Brussels and via livestream.
Download the brief